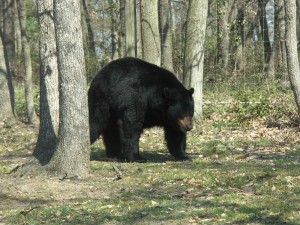 We went RVing to Yellowstone National Park looking for bears.
Well, not really looking for bears, but we did want to see some wildlife in their "natural setting".
We saw some buffaloes, some elk and some mule deer, which don't get me wrong – was very cool. We didn't see any bears so we were all kind of disappointed though…
Thank God we didn't see any bears because one of our friends doesn't exactly like bears much.
In fact, we got him some bear spray when he landed in Jackson Hole, kind of tongue in cheek to poke fun at him. We all thought it was really funny and a big joke.
But he knew something we didn't.
Bear Attacks

As fate would have it, the exact DAY we were in Yellowstone looking for wildlife, some unfortunate hiker was hiking alone and was attacked by a bear. He unfortunately didn't make it.
He was hiking alone, lost his way, came upon a bear and the rest of the story is a bit uncertain. What the Rangers who found him do know is that he made some poor decisions that led to his unfortunate demise.
That same day, we were blissfully hiking to beautiful Jenny Lake on the lookout for our wild prey…
Although we kept to the regular populated path and minded the precautions, you tend to forget that when you're out in the wild, you are totally out of your element.
YOU are in the animals' house, not the other way around. So when you're out of your element, make bad decisions and get a bit cocky, bad things often  happen.
The RV Crash
A few weeks before, we were coming through Billings, Montana and I made a somewhat similar, although far less fatal bad decision…
We were low on diesel and were looking for a gas station and feeling the pressure to get the diesel tank filled and be on our way to our next destination a mere five hours away, I made the fateful decision to pull into a local gas station. Overconfident in my ability to navigate the tight turns and curbs only meant for vehicles NOT fifty four feet in total length, I turned in to fill up.
After filling the tank, I pulled our 37 foot behemoth 5th wheel RV from the gas station I never should have pulled into in the first place. It was then that every RVers nightmare happened as a jolting THUD sound came from the rear of the RV….
While turning, I had knocked the gas pump, the gas station stanchion and with the rear quarter panel of our RV, ripped off two feet of our back bumper, causing hundreds of dollars in damage to our once pristine full time RV vehicle.
If it weren't for the kindness of a complete stranger who knew how to get us unstuck off the gas pump and avoid blowing up the entire gas station (think that scene from Terminator 2 here), we may still be stuck in Billings, Montana now.
Or we may not be here at all…
Another bad decision.
Drama
My parents came to visit us when we were in Glacier National Park, which was one of the most beautiful places on earth. The Going-to-Sun-Road is really something to see: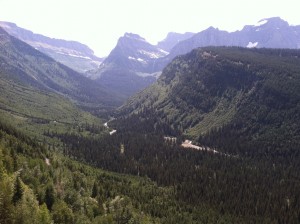 As a part of our quest to see absolutely everything possible in the quickest amount of time, we decided to see the other side of the park on the Canadian side. It was only 120 miles of so away and we figured, what the hell, we are so close we may as well go.
In Waterton, Alberta the highlight for me was the best run I have ever had…absolutely gorgeous scenery, picturesque in every way.
That was the highlight.
We were not so fortunate the next day…
As we toured the Canadian side, we stopped our tour for a well deserved rest and lunch in a beautiful place known as Red Rock Canyon located at the end of a wildlife preserve, 40 miles from the nearest town.
We ate lunch and let the kids to climb down the rocky 25 foot canyon to play in the cool glacier fed stream. For kids who had obediently submitted to the frenetic travel wishes of their parents and grandparents for the previous three days, it was a welcome break for them.
Hoping to get closer to the kids playing down in the canyon stream below and at the behest of my mother, my very unsteady father tried to get a closer look off the 25 foot ledge. The shale rocks gave way under his feet and although he is barely stable on level ground, he easily tumbled down the precipice to the edge.
Another bad decision…
As he fell, rolling like a sack of Idaho potatoes, he broke his shoulder and nearly toppled the remaining 20 feet onto the canyon floor before being rescued.
He was treated in a nearby hospital, stabilized and flew home the next day to seek further care.
Unlike the man mauled by the bear, my father will recover fully although he most likely won't be scaling any cliffs any time in the future.
Trauma
One of the best things about RVing full time is that you are somewhat immune to many of the less than pleasant happenings back home.
Things like petty and mundane neighborhood personality clashes that are bound to occur in suburban life you are completely immune to all of it when you're on the road in an RV full time. Not that I get all that involved in it, but I personally love the escape that RVing full time gives me on this one.
We greatly miss our friends and family however, and that has been the biggest challenge with this full time RV trip so far. And when health related issues occur at home, even minor ones with loved ones, it makes it very difficult to help from 3,000 miles away.
One such medical emergency occurred just this past week with my father in law.
For the previous month he had been in and out of hospitals for a variety of medical disorders that were each treated accordingly. However, some symptoms persisted that made him return to the hospital one last time.
When we spoke with him from Wyoming, he sounded terrible. In fact, it was the worst we've ever heard him sound. Although we have always worried about his health in the past, this time seemed far different. And more dire. Suddenly we found ourselves thousands of miles away on the RV trip of a lifetime away from the people and place that needed us most.
So for an agonizing 25 minutes, we discussed the pros and cons of interrupting our full time RVing trip and returning home.
We were faced with some difficult decisions:
What should we do with the RV?
Should we bring the kids?
Should one of us go and the other stay behind to watch the RV, then come later if things worsen?
Should we store the RV 50 miles away then race back and catch our flight in the nick of time?
How will we even get flights with Hurricane Irene slashing its way up the East coast?
We literally had minutes to make a decision that would have far reaching implications for our trip, our family and most importantly for my father in law's health.
So we made the gut decision to uproot our RV trip, take the next flight in three hours. Despite the overnight in Chicago and two layovers, all the while taking our chances with Hurricane Irene we hightailed it back to Boston with the kids in tow.
This was the best decision we have ever made…
Four days later, with the full time RV family back in Boston, my father in law is now leaving the hospital and moving to a rehab center to recover fully under supervised care. His illness although serious, is treatable, having been expertly diagnosed and managed by the Brigham and Women's hospital staff.
Tough Decisions
Although sometimes you make bad decisions in life, the right decisions at the right time made not for yourself are the ones that really stick with you the most…and have the greatest impact.
Although our full time RV trip is one of the best decisions we have made as a family, its one that is completely absorbed in our own self interests and those of our kids. By RVing full time, we're thinking about our own wants and needs, while seeking our own sort of traveling self-actualization.
However, the decisions you make purely for others, while they may come with a certain degree of sacrifice, are the decisions that give you the real feeling of true self actualization.
Although we went on our RVing full time trip to seek that wisdom elsewhere, it seems it could only be taught best by returning to the one place we were escaping from…and that place is home.
How about you? Comment below your thoughts on decisions you may or may not have made?