Have you ever gone to a sandcastle competition?
Not at a camp, but with adults who are architects and in San Francisco?
Well we have! And we did it our first weekend in San Francisco full time RVing when we got there.
It was awesome! We love San Francisco because there is so much cool stuff that goes on here.
We sometimes like it better than home although we do miss home. But building giant sandcastles makes it hard to miss home sometimes.
Making Giant Sandcastles When RVing Full Time
A sandcastle competition is a competition about sandcastles. The goal is for you and your teammates to work together to try to build the best sandcastle, while raising money for a good cause and being creative.
San Francisco schools sponsored the competition so kids can be creative. Leap is the organization that made it possible.
Leap raises money for schools so they can have art classes, which kids don't have because the politicians cut out money for it…that's what my Mom and Dad say.
That doesn't make any sense to me…how about you?
Anyway, you can see all the pictures of the sandcastle contest here.
For our full time Rving sandcastle, we made an Angry Bird volcano with pigs coming out of the top and all the birds around it. It took us all day to make it, but we finally completed it right as the buzzer sounded.
Even better, we got a trophy for "Best Feelgood Sandcastle".  Here is the picture of our sandcastle here. It was huge!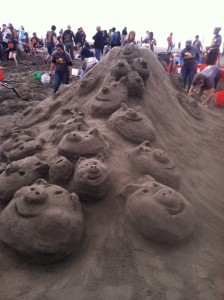 My Dad's cousin Kyle was the emcee and she was awesome! Our cousin Cypris helped too.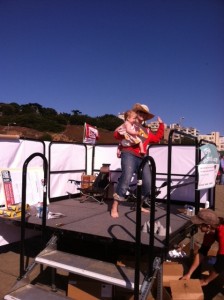 How To Build A Sandcastle When RVing
You might ask how we built this giant sandcastle? It was because we worked on a team.
First we put water and sand on top of each other. Then we stomped on it until it was compacted into a hard sand mountain. Then we  worked on the details like the nests, pigs, and birds.
It was our first experience in California and we loved it. We had a lot of fun with our cousin Cobalt, as well as with all the other people we made the sandcastle with.
This is just some of the fun kinds of things you can do while RVing while helping a good cause at the same time.
Please join us in helping Bay Area kids and "Like" this post on Facebook (you can just click the "Like" button to the left by the way, its really easy 🙂 ), so we can all help support Leap!
Thank you!
Alex and Eli
Professional Sandcastle Engineers and Full Time RVing Kids