WOW!  What a great place to visit.
KOA Campground
Niagara Falls, Ontario
Rating: Top notch! It easily gets an A rating
Great wireless, facilities and incredibly kid friendly.  A jumpy and indoor and outdoor pools…what can beat that?
We only stayed two nights but had a fantastic time.
Plus, it will always be one of the most emotionally attached RV parks we ever visit in our trip….as it was there we watched the Bruins raise  Lord Stanley's Cup for the first time in over 38 years!
Niagara Falls, Ontario
There are a hundred things to do and visit in Niagara Falls. Since we only had one day and then the all important Game 7 of the Stanley Cup Finals to watch, we were  limited to doing three key things.
We did  (in this order):
Journey Under the Falls
Niagara Fury (4-D movie about how the falls were formed)
The famous "Maid of the Mist" boat ride to the bottom of the Horseshoe Falls – the highlight and we still have our bright blue ponchos as souvenirs.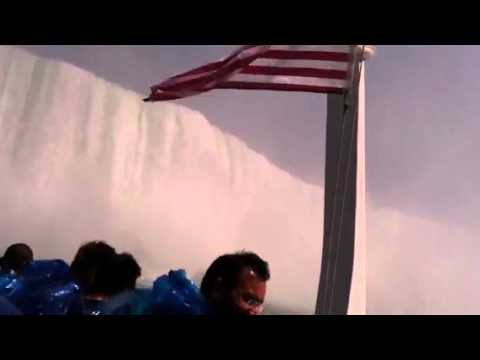 We arrived home with plenty of time to swim in both pools, cook and eat dinner and watch the Bruins game in our same seating positions as in game 6.
HOORAY!! Our superstitions paid off and we won!!
Niagara history:
There are 14 million visitors each year that travel to see the stunning Niagara Falls.   There is so much more to learn so please visit the many web sites including Canada's very own "Mr. Niagara's" blog at:
www.niagarafallstourismblog.com
What's Up Mr. President?
Mr. Niagara (aka George Bailey) did make one mistake in his blog…..it was in his " Niagara Falls, Still a Honeymoon Attraction" post on May 31,2011.  We really can't fault him as he is Canadian, not American and it is our history not his!  After all, how much do we Americans really know about Canadian History? Read below and see if you can spot the error right away.
"Niagara Falls received its reputation as the "Honeymoon Capital of the World" when the daughter of Aaron Burr, the 3rd president of the United States chose to honeymoon in Niagara Falls in 1801.
A few years later Jerome Bonaparte, brother of Napoleon, and his bride did the same thing. Today, over 50,000 start their married life with a Niagara Honeymoon."
That was too easy….
Who was our Third President?
And better yet who was Aaron Burr?
Reply in the comment below if you know the answer!
Question to all Sorenti relatives:
Which of our ancestors spent their honeymoon at Niagara Falls?
This one's pretty easy too!
Repond in the comments section below if you know!