We went RVing full time to Galena, Illinois and then went to Dubuque, Iowa. I have never been to either place before but I had a lot of fun.
We have gone to may places while we full time RV cross country, but Galena was special for me. I will tell you why here.
U.S Grant House
Ulysses S.  Grant was a President after the Civil War. He was also a great General who helped defeat the South to win the Civil War.
He  lived at this house in Galena after the war and got it for free from seven businessmen as a gesture of appreciation for his services in the Civil War. Ulysses had  lots of parties at his house and celebrated his election to the Presidency there.
Also I liked the design of the house. It was very beautiful with nice colors.
One interesting thing about Ulysses is that he never swore or ate chicken.
Another interesting thing I also learned about Ulysses S. Grant is even though he led thousands of men to battle, he hated the sight of blood so much that when he ate beef it had to be cooked so it was as hard and tasteless as the sole of a shoe.
Plus I like him because my middle name is Ulysses!
Downtown Galena
I thought downtown Galena was great, my dad thought it was very quaint and beautiful. We went to a hot sauce shop and he ate a hot sauce that burned his mouth so bad he couldn't talk for an hour!
We also had dinner in the old tannery that Ulysses worked when he was called into duty for the Civil War.  The restaurant was Green Tomatoes and it wasn't very good at all and it cost too much.
But we were happy to eat in the store he once worked in (even though he hated working there).
Dinner and a Show in Galena
We next had dinner at One Eleven Main Street Restaurant in Galena and it was delicious. Before our meal, while my mom was with our friend Karen and my dad was talking with Uncle Andy, dad let me and my brother sit at our own table in the bar and have Shirley Temples, they were delicious!
After dinner, we saw a Mark Twain show starring Jim Post. He told funny stories about his youth and he was very kid friendly. He talked to me and Eli a lot during the show. The guy was really funny!
I had to get up to go the bathroom in the middle of the show and he stopped the whole show to wait until I got back. I've never peed so fast in my life!
RVing full time in Dubuque, Iowa
Karen and Uncle Andy took us to go see the new Harry Potter movie in Dubuque, Iowa, which is 10 miles from Galena. The movie was great! But first you need to read the book.
We also went to the Mississippi River Aquarium and Museum in Dubuque. The museum was great! It had a whole section on trading beaver and other furs and how water works.  I liked the water section best.
Here is me and Eli playing with some new friends at the water exhibit: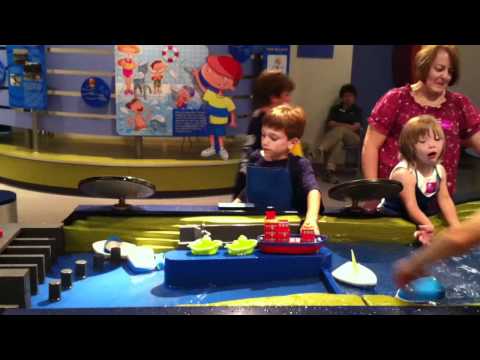 We loved Galena and Dubuque! You should go there.
Please "Share" this article on Facebook or Twitter by pressing the button on the left! That way more people can read it and find out about Springfield, Illinois which is awesome!