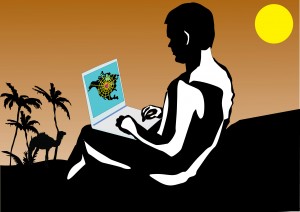 When we are talking with people about RVing full time, a question that comes up very frequently is how we stay connected when we're in all these crazy, out-of-the way places.
If you're RVing full time around New York City, then chances are you wouldn't have a lot of connectivity issues.
But when you're rving in places like Hungry Horse, Montana, these are spots not exactly known for their spectacular 4G cell service….
So because of that we have multiple backups to make sure we stay connected and are able to work even in the most remote locations.
RVing Full Time and Staying Connected
Unless you're independently wealthy (we unfortunately are not), you have to figure out a way to pay the bills while you're out on the road RVing full time. A few years ago, after getting The 4-Hour Workweek by Tim Ferris
from Jen for our 9th wedding anniversary, I was inspired to start an online business with the ultimate goal of leading the "location independent lifestyle"…which is perfect for RVing full time.
Since we both work from home with our respective businesses, full time RVing was a perfect way for us to see the country, educate our kids, fulfill our travel dreams while continuing to work at the same time.
But when you work from the road, chances are pretty good that you have to stay connected to the Internet. As they say in the online world: no connection, no business.
Although it is an awesome device, the iPhone 4
will only will take your so far. There are going to be plenty of times when you'll need to connect from your laptop or your iPad to get business done, not to mention stay in touch with friends and family to send cute pictures of the kids mugging in a big ear of corn….
So here are a few ways we recommend staying connected while RVing full time:
1. Get Wi-Fi at the RV campsite
If you are living the connected life, a major thing to consider when you are booking your RV campsite is ask the RV campsite about amenities like Wi-Fi. Since we both work on the road RVing full time, we made sure every site we booked had WI-FI, either paid or free. Whatever the cost is at the RV camp site, its totally worth it, so I would recommend getting it.
When you are booking your RV campsite though, make sure to ask them how strong the Wi-Fi signal is at your site. We learned this the hard way on our first RV campsite. So make sure you ask to get a RV campsite that has a strong Wi-Fi signal.
2. Get More Than One Aircard
The two biggest wireless carriers, AT&T and Verizon both have holes in thier coverage no matter where you do in the United States.
Although Verizon is ten times superior as far as coverage goes, we did find some spots where the AT&T signal was actually stronger than the Verizon signal (go figure). So as a result, we highly recommend getting at least two laptop wireless "sticks" as they are called.
We recommend both the AT&T GSM USB aircard
or the Verizon USB AirCard
.
Like I said, the Verizon wireless card will be more reliable, but you should have both just in case. Its that important email or proposal that you need to send out at the very last minute and then you realize you have no signal is the exact wrong time to realize you only have one wireless card. So get both the AT&T GSM USB aircard
and the Verizon USB AirCard
just in case!
3. "My-Fi" Is Your RVing Full Time Best Friend
When we first started RVing full time we used the Verizon AirCard
a lot. But soon after we started, I found myself  using a different device to get online which I found even more reliable called "My-Fi".
"My-Fi" is different than WI-FI in that its a way in which you can pull in an outside cell signal into your RV using a small  transmitter. Its about the size of a deck of cards and it looks like this:
The one we use (pictured above) is a Samsung 4G Mobile Hotspot
through Verizon and it works super well. The signal is clear and reliable and we have been really happy with it.
Although it relies on the outside Verizon wireless signal to get its signal, it seems stronger than the Verizon wireless card most of the time.
4. Consider the Satellite Dishes (If You Can Afford Them)
One last way to get an Internet signal is go through either DirectTV or the Dish Network. These Internet signals are always bundled with the TV packages and are really expenseive. I have heard they are reliable, but I wouldn't recommend them as we have not tried them.
We did look into the pricing for both systems; but between the equipment you have to purchase, the time to set it up at every RV campsite and the size of the transmitters, it just wasn't worth it. That's why we stuck to the wireless cards and the My-Fi.
However, feel free to check them out here though
.
The RVing Full Time Connection
So when you are RVing full time and you absolutely need to stay connected, make sure you have multiple ways to do it. We receommend multiple backups for wireless signals, one from the RV park, the My-Fi and the two wireless carriers. It may seem like overkill, but when you get out on the road full time rving, you'll quickly realize that it isnt overkill at all, in fact its just essential RV accessories for your survival.
Fell free to Share this post with your friends on Facebook by clicking the "Share" icon to the left. And as always, please comment below, we'd be happy to help you full time rv in any way we can!