Meet my sons:
"Inside" (Eli)
and "Outside" ( Alex)
Like most siblings, our boys are very different from each other. Alex is 10 and his first real word was "OUTSIDE!" Which he always said with great emphasis (aka… shouting it as loudly as possible), while standing by the door at 5 am, just minutes after waking up and gobbling down a bowl of cereal.
Our neighbors (hi Coach Tim!) would drive by early in the morning each day on their way to work or the gym and see me playing soccer, deck hockey or baseball with our very energetic toddler.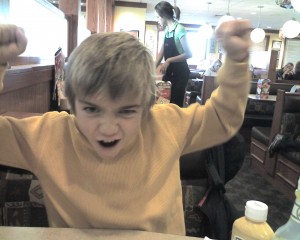 He hasn't changed much since those days. Alex still is happiest outside running, fishing, biking playing sports or army and typically likes company while doing these activities.
Eli, on the other hand, typically prefers to be inside, playing legos or building something complex,talking to himself, creating own stories or perhaps drawing extensive detailed pictures. He likes to be in the same room with me or his father – as long as we do our own thing and do not disturb him until he is done.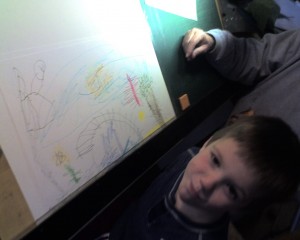 When Eli was a toddler and Alex would try to drag me outside, Eli would be designing intricate play-doh creations and he would beg me to stay inside….but not let me touch any of his play-doh.
He is a kind boy, so he would start out with giving me a lump of play-doh…however whenever I would make something, he would inevitably look at it, shake his head, give me a little somewhat knowing smile and take back the play-doh and add it on to one of his creations.
He preferred that I just  sit there and admire his creations.
And yet in spite of these differences, these two brothers, "Inside" and "Outside" as we fondly call them, have always gotten along quite well.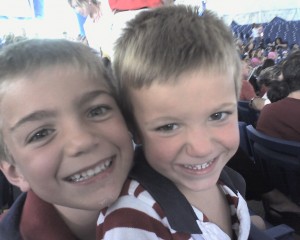 Ralph and I are at a loss as to the reason why and yet their mostly harmonious relationship is a major reason why our family can go Rving full time this year.
Thus far, Inside and Outside are getting along really well (knock on wood now!!) on this full time RV road trip. And it's heartwarming to see them laugh and have fun together…as well as collaboratively conspire charming and inventive ways to get a treat or candy!
We've found that for us adults, living the full time RV life style is very relaxing and quite fun. However from a child's point of view, this very same RVing full time lifestyle and its accompanying "let's see it all" rush to every landmark you pass through, can be a very tiring thing.
We noticed this pace was starting to tire the kids and we realize that this is because what we have done up until this point is live an "adults life" at an "adult pace".
And when you're RVing full time with kids, you just can't do it this way.
Of course some adults just take their chillaxin time whenever and where ever they can. Its not so easy for kids though. Especially kids with parents like us.
While in Pittsburgh though, we realized the age old lesson that the kids NEED TO PLAY!!! They need free time to be themselves, play with their toys, have downtime and play with other kids at the campground.
We realized that this play time is essential to a positive home life for them, as well as it is to being healthy. Kids miss their friends, their home, their toys and when you're on the road in an RV full time, we parents need to realize this and adjust our routine to include some normal everyday activities including playtime,  inside (with toys, Pokemon and baseball cards) and outside on the playground swing set or jumpy pillow to play with new friends.  We also need to schedule in more plain old family time with regular dinner (RV style of course)  and a movie at night instead of trying perhaps trying to make the most of  a museums "open to 8 pm" night.
So we realized that we are going too fast, trying to do to much and needed to slow it down. So we did.
So after our frenetic first two weeks, this past Wednesday, we did exactly that. We slowed it down, pared down the schedule, added in fishing, jumpy pillow time with all the KOA campground kids and precious Lego time and cartoons.
Uncle Bob would be proud to know that we let them watch The 3 Stooges!!
I meanwhile, took the much vaunted Carnegie Science Center and Museum Natural History ( ouch!!…) out of the schedule. It is summer after all…we haven't even started any road schooling, other than reading or the occasional everyday family math lessons, so I figured I was OK there.
As a result of this slight alteration in our schedule, "Inside" and "Outside" are now happy and relaxed…
I meanwhile, am biding my time (or is that chomping at the bit?) until the next "not to be missed" museum (Henry Ford Museum… here we come!), historical site or President's House.
So when you are on the road in an RV full time, see the sites, for sure.
But don't forget to schedule in the "chillaxin' time", especially if you're with kids.
After all, the museums and "not to be missed" sites will always be there…but your kids will not always be kids, so give 'em time to be just that.
President's Corner
Ohio's nickname is "The Mother of Presidents" since so many Presidents were born in Ohio..
And the question of the day (do not Google it!!) is:
How many Presidents were born in Ohio?
And a bonus question: With which state does Ohio compete for this Mother of Presidents Title?
Post a response below for the first to answer this weeks "President's Corner".