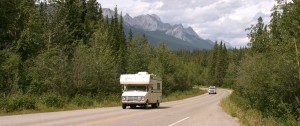 So, you want to plan a full time RV trip?
In this series, we will be sharing some guidelines so that you can envision, plan and then implement your own full time RVing trip.
But before we get to the RV full time guidelines, here is the most crucial rule:
Be flexible…it's for your own good!
At every turn in your full time RV adventure, you will have obstacles, but the key is to be flexible and roll with the punches.
How we started turning our full time RV dream into reality is by using one big map and over the dinner table, and methodically planning a geographically wishful route from the east coast to the west coast and back again. This was just the first step of course, but an important one to get the creative juices flowing.
We then looked at RVing books
and all sorts of Internet resources to the places within the United States and Canada that we wanted to go to.
If there is one single book you MUST get to help you with this part of your full time RV planning it's Road Trip USA: Cross-Country Adventures on America's Two-Lane Highways
, an absolute must read!
We then gave the kids colored pencils and allowed them to gleefully color the map to where they wanted to go. It looked fantastic! We then propped the map on the mantle and admired it every day.
This rough map then became our very own full time RVing "vision board".  It was a great idea…a rough draft…but we knew it needed to be refined.
We then started the real planning…and the entire route changed for the first of MANY times.
So this comes to our second full time RVing rule:
Be prepared to make changes! 
Your full time RVing route can and will be "tweaked"; which in turn may change the next destination. So just be flexible (remember "the most crucial rule?")
Once your route is "set in stone" and you embark on your journey, certain points of interest may change again.
(In fact we just changed our route to South Dakota and North Dakota today as of this writing in order to see our good friend and honorary Hell's Angel, Dale Gorman).
Apart from Hell's Angels and other such distractions, there are all sorts of reasons that may change your route and itinerary and the biggest one of them is Mother Nature.
Mother Nature is a significant force to reckon with.  For us, it was re-routing much of our trip around the flooded mid-west.  We had no choice, National Park Campgrounds that we had booked months in advance literally closed due to flooding, so we had to sit down, look at a map and figure out "where to next?".
If you set off knowing in your head that plans may change then this isn't monumental, it is just a dip in the road, like many other things that may occur while RVing full time.  However, if you can't handle bending the route a tad, this may feel catastrophic for you.
Telling yourself that plans could change will prepare you for when they do, so now you can start planning it out.
Here is the first in our RVing full time guidelines:
Step #1: Yes, you can RV full time!
For us, the full time RV trip began as an "imagine if we could ever…." kind of  free association. We sat around the dinner table, with US road maps and site books, and talked about things like:
"Wouldn't it be wonderful if we could…"
"Wouldn't  it be so cool for the family to have this experience together…"
"I want to cherish this time while the kids are young, and plan it while they are excited about hitting the road…"
"I'd love to give my family the opportunity to really see the country…"
"I think that it would be a tremendous learning experience for my kids…"
"Wouldn't it be refreshing to do something different; to break away from our everyday routines and spice things up…"
So free associate.
Then, tally up all your answers and then really think about what you want to do and what you want to accomplish.
Keep The Full Time RV Payoff in Mind

Each family has their own "pay off" for hitting the full time RV road. For us, it was a mixture of fabulous "pay offs". We also decided that the timing was ripe for the pickin', and we made it our mission.
If a full time RV trip is something that you and your family decide to embark on, our first advice is to talk about  the ways that it will and can happen, and shut out all of the talk in your head (and your well-intentioned acquaintances) about how it "can't" happen.
Shut out these negative emotions:
"We could probably never afford it and my boss wouldn't let me work from the road"
"We can only go if the baby was just a little older"
"Our family of 5 would probably feel so trapped in a tin can all summer"
"How would I ever home school? – I'm not a teacher"
"I could never do it, I don't even know where to start!"
Stop all the negative self-talk. Then take road blocks one by one, and come up with some solutions on how you can make it work.
And then DECIDE to get on the road full time RVing. Our next step will cover your RV full time Mission and Time Frame.
Tell us what you think? What is holding you back from RVing full time? Add a comment below, we would love to know what you think.