I really hate running…all the panting, the aching knees, the back pain, the burning chest, the inevitable stitch in the side. I really want to love it, but I am just not a big fan of running.
However, one thing that I do at every RV park we go to is take at least one run. I've done it at every RV park from New York to Montana…in every RV park we've stayed at so far.
As I've written before, I am a tad obsessive when it comes to working out in the RV, so running is just a part of managing that obsession. After all, when you live in a cramped tin box RVing full time, you gotta get the hell out of that thing every now and then or you WILL go insane.
Doctors have proven this to be true…
Not one to ignore a doctor's advice, this is exactly what I do.
The Worst Run I Ever Had Full Time RVing

The worst run I did was in Mitchell, South Dakota. I really wanted to run at mid day, but it was nearly 105 degrees, so I figured I'd wait till it cooled down at night. As soon as it turned a balmy 102 degrees at 5 o'clock at night, I went for it.
I ran on a road that was so long, so straight, so boilingly hot, as I was running I couldn't see the end of the road clearly because it had those heat waves that blur your vision. I eventually deduced that the road actually disappeared at the horizon. Needless to say, I didn't run to the horizon…that would have been in Wisconsin somewhere.
Instead I ran to a parked corn harvester I figured was probably a mile from our RV camp site, then I turned around and came back. It was the most brutal run I have ever taken.
The Best Run I Had RVing Full Time

The best run I have ever taken while RVing full time was the last one I just took in Waterton, Alberta, Canada.
Waterton, Alberta is on the other side of Glacier National Park in Canada. Its not a very well known town, as most people usually just visit the American side. In my opinion though, it is not to be missed.
Waterton is surrounded by some of the most majestic mountains in the Glacier/Waterton National Park and the views of the mountains from the town are spectacular.
So after we drove the two and a half hours to get there from our RV camp site in Hungry Horse, Montana I was ready for a run in the cool mid 60's temperatures.
And it was the best run I have ever had. In fact, despite the elevation, I felt I could run for hours…although everyone was waiting for me back in the hotel to go to dinner. Here's the view: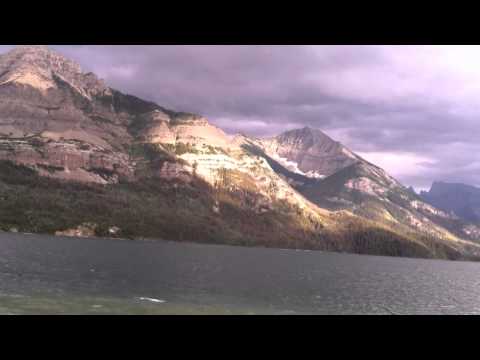 As we were in Canada, I felt the only thing I could play on my ipod was the crown jewel of Canadian rock, Rush. I was in a mid 80's Rush mood and listened to "The Big Money" in fact…an odd choice for me as its really one of their weaker songs. But the view was the real story anyway.
What a run it was.
What's the best workout you've ever had? Its OK if it was the 12 ounce variety as well. Comment below and I'll respond…I even answer the phone while I'm running….