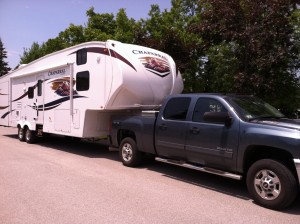 RVing full time does require a bit of pre-planning.
If you're RVing with kids, it requires ALOT of planning. After all, you can't just "show up" at Yellowstone National Park on the fourth of July weekend and expect for them to have a full hookup RV site for you ready and waiting for you.
So as much as RVing full time is all about spontaneity, getting away from the "structured life" , and "location independence"…when push comes to shove, you'll need to do some research, planning and preparation.
The Most Important RVing Full Time Tip
The most important thing when RVing, aside from making sure you have enough gas to get to your destination, is far and away the choices you make for RV parks.
And the best way to make sure the RV parks you are thinking if staying at are not complete dumps, we recommend checking RV park reviews on the Internet prior to booking.
Another great way to get information on RV parks is to ask your friends and have them make recommendations as well.
You can also go to RV forums and ask questions on these RVing sites as well. Campers love sharing their wealth of information! If they enjoyed a campground, then ask them which particular area of that campground would they recommend that you stay in.
Great Full Time RVing RV Park Reviews
If you are like us a bit and are more prone to flying by the seat of your pants, go online and read the reviews.
One site in particular that I used constantly was www.rvparkreviews.com. Another great RVing full time review site we love to use is yelp.com.
Between the two of them, these are two of the most popular RV campsite review sites online and has hundreds of RV park reviews available to you.
Sometimes people give recommendations for neat things to do in the area, which will help you in deciding what to do once you get there.
If for some reason, you cannot find a good RV campground on either of those sites, simply search for the campground name followed by "reviews" and more often than not, you'll get really good information to make your RV campsite choice easier.
RV Park Review Watch Outs
Now keep in mind that when you are looking up rv park reviews, there are always going to be people with nothng better to do who somehow find the time to write bad reviews. So if you see twenty great reviews and one really bad one, then there's not need to stay away from that RV park.
If you see multiple bad reviews however, then you may want to find another RV park.
When we were RVing full time in Springfield, Illinois, our RV park choices were a bit slim. We Googled reviews and couldn't find many RV parks that would fit our fifth wheel except one, the KOA in Springfield.
In the review online however there were four reviews, two good and two not so good ones.
But after reading all four RV reviews, the objections they had seemed so minor, we booked it anyway. We ended up staying at that RV park for five days and had a great time.
So if the objections are relatively minor, then chances are the RV park is just fine, especially if the pictures look good.
Please "Share" this post with your friends on Facebook by clicking the "Share" button to the left – there's tons of people who also may find this post helpful. Thanks!