RVing in Philadelphia we saw lots of things.
Most of the things we saw there were about the American Revolution which my brother Alex is learning about  for fifth grade…so I picked up some tips for next year!
It was really cool to see some of the same things that I have heard my parents talking about all these years.
That is RVing full time road-schooling at its finest!!
RVing in Philadelphia
When we got to Philadelphia, we saw Independence Hall where our founding fathers debated  independence from Great Britain and the Declaration of Independence.
In Philadelphia, they also signed the Constitution.
We also saw the Declaration House…it kind of a funny looking house.
That was the house that Thomas Jefferson wrote the Declaration of Independence. He wrote it almost completely by himself (with bit of help from Benjamin Franklin and John Adams).
As someone who has to write blog posts about RVing full time, writing a whole Declaration is a lot of work. Jefferson was smart, he had a soft voice
but could write really well.
We also saw The Liberty Bell too…
Also, when we were in Philadelphia full time RVing, I went to see Carpenters Hall.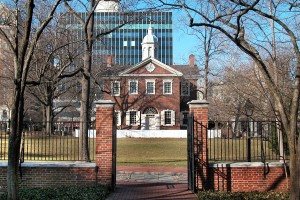 The first Continental Congress was held there in 1774. I thought my mom was going to cry when she first went in and saw where it all began.
She loves revolutionary history.
If you ever go to Philadelphia full time RVing, make sure you go see Betsy Ross's house too.
Betsy Ross was the person who made the first American flag and she had a contract with the first US government to make ammunition for the Patriot troops.
She ran her business out of her basement, just like my mom.
She was a very smart business woman, just like my mom!
I also saw where Ben Franklin lived. You could almost feel his ghost directing us to the library, the post office, the fire stations…all the institutions he created that we still enjoy today!
RVing in Philadelphia…Don't Forget The Food!
My favorite part of visiting Philadelphia was when I ate a Philly Cheese Steak Sub with sweet peppers. It was delicious!
The cheese and juicy steak melted in my mouth.
Philadelphia was a blast!
If you like this post, please hit the Share Button to the left and share this with your friends on Facebook who may want to know about RVing full time in Philly.