WHO ARE WE?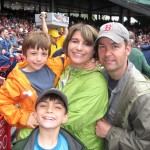 We are the Sorenti-Burns family.  We're two self employed parents in our mid 40's working in a mobile work environment who love to travel and explore new places with our two children.  We are curious and believe that travel is the best education of all. We plan to home school our two boys together during this time away.
Jen has been working in the satellite business for over 20+ years and wants to connect with and introduce her family to all her friends/customers throughout the US and Canada while RVing. She has many appointments set up across the two countries as we travel west toward the Pacific.
Jen is the navigator of the journey (code name "Magellan") and in charge of site logistics. She is also the idea person, chief explorer and in charge of budgeting. Jen is a history buff, mostly social and economic history, who loves to visit historical sites and museums and especially former President's homes. She will be adding much historical perspective to the blog you are reading.
Ralph left the corporate world of medical testing and big pharma sales management and started an Internet marketing and advertising company two years ago and has never looked back.  He's looking for new ideas, experiences and inspirations as well as meeting with his affiliate partners, business associates and friends as we cross the country in the next year. The west coast is also teeming with business opportunities for Ralph's company so we will be spending almost two months in Northern California at the end of this year.
Ralph is the driver and chief of RV operations (code name "Garmin") and is in charge of the technical details, making all systems work (and for holding Jen back when her ideas get too ambitious). Ralph is also a history buff especially loving to visit endless battlefields sites. Don't drive too close behind him as he will be apt to pull over and read EVERY placard on the road leading up to a historical monument or battlefield.
Sons Alex (10) and Eli (8) have just finished 4th grade and 3rd grade and are veteran travelers. They are excited about seeing all the 50 states and parts of Canada. Both boys have vitally important tasks in the RV:
Alex is our extremely exuberant and inventive head of security (code name "Goodwrench" or "Wrench" for short). He is responsible for all systems outside the RV, including set up and take down of the RV at each site (set up of water, electrical, cable and parking assistance).
Eli is our creative and thoughtful head of expense tracking, RV leveling and meal planning.  Eli  truly enjoys math and writing, but also plans to cook a different type of pancake in each state and territory ( hence his code name "Pancake").
We do feel the pang of missing their family and friends in our native Cape Cod…and this blog is designed so we could share our adventures with our loved ones, as well as help others to pursue their dreams which may include traveling by RV full time.
Alex and Eli are quite used to being dragged to historical sites. And as such, Alex enjoys military history and likes to watch old Army movies.
Eli on the other hand, is more interested in US  economic history…meaning he loved The Hershey museum ( CANDY!!)  and the story of how Milton Hershey built a great candy empire ( MORE CANDY!!)
In 2009, We had started to think about building an attached garage but chucked that idea and chose instead to buy our fifth wheel, diesel Chevy 2500 and travel cross country full time RVing.  We rented our home to both help cover the costs of travel and not give us an option to return should things not turn out as planned….
We are looking forward to trading in rush of every day life chores, sports, school and other activities for a full time RV life on the road of work, travel and homeschooling.
We hope you enjoy the blog and please comment on any of the blog posts! We will be sure to interact with you as we both gain a deeper understanding of what its like to travel across the country for a year full time in an RV.
Stop by again soon and if this is your first visit then be sure to sign up for our RSS feed so you don't miss any full time RV updates!
Cheers!