Full time RVing allows you see things you have always wanted to see. Seeing every major league ballpark is one of the things that are my RVing full time "bucket list" of things to do before I die.
So when we went to Springfield, Illinois, we found ourselves only an hour away from Busch Stadium, the home of the St. Louis Cardinals and the home of the greatest player in major league baseball not to have been found cheating with steroids or hGH…Albert Pujols.
If you don't know who he is, Albert Pujols is an incredibly phenomenal baseball talent. Just check out some of his stats (courtesy of Wikipedia):
9× All-Star (2001, 2003–2010)
World Series champion (2006)
3× NL MVP (2005, 2008, 2009)
2× NL Hank Aaron Award (2003, 2009)
6× Silver Slugger Award (2001, 2003–2004, 2008–2010)
2× Gold Glove Award (2006, 2010)
2001 NL Rookie of the Year
6× NL Player of the Month Award
5x NL Player of the Week Award
2004 NLCS MVP
2008 Roberto Clemente Award
2003 NL Batting champion
2009–2010 NL home run champion
2010 NL RBI champion
If he stays clean, he'll most certainly be a first ballot Hall of Famer when his career is over. Let's hope that will be the case, because both (not just my baseball loving son) are totally enamored with him…as am I. Kinda like me and Tom Brady…a little man-crush, quite possibly.
The point is that we went in our RV full time to St. Louis almost exclusively to see him play.
Sure we saw other sites like the St. Louis Arch:
We went to the top of the Arch which was very cool. The museum below the Arch however was not so great. It smelled funny and the kids were bored…in fact it was really kind of sad how the place was so dilapidated.
Through all that though, the movie on Lewis and Clark was awesome and for that movie alone, it's worth the trip to go see it.
But I digress…back to Albert Pujols.
Suffice to say, he did not disappoint this full time RV family one bit.
If he can propel my son Eli (the non-sports fan) to go this crazy after hitting a home run that helped to win the game against the D-Backs in a walkoff, then he MUST be the greatest baseball player that ever lived!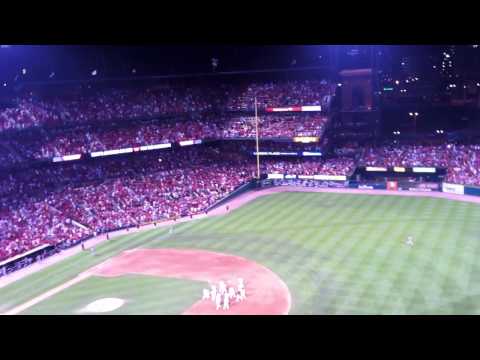 Just awesome.
It sorta felt (despite the unbearable 100-plus degree heat) that we were truly in the presence of greatness that night in St. Louis. And although we as a full time RV family, could take or leave the city itself (although the people were very nice in my opinion), we would love to take Albert Pujols back with us to Boston.
Wouldn't he look great as a Red Sox DH when Big Papi's run is over?
After all, he is a free agent soon…just somehow keep him away from the Yankees.
Tell us what you think below by posting a comment below.