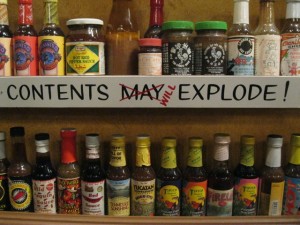 RVing full time is fun. You get to see a lot of cool sights, even if you're a kid.
But what I like most is the food.
My mom and I really like to talk about what kinds of main dishes we want to order when we go to nice restaurants.
When we went to Elements in Pittsburgh, I let her pick for and I loved the meal.
However, when we went to Heaven on Seven in Chicago to celebrate our friend Dalia's birthday (Karen's Mom),  I was way over on the other side of the table, so I went my own way.
Heaven on Seven is a Louisiana-style restaurant which has hundreds of hot sauces all put together on a wall!
There are tons of hot sauces to choose from and my favorite one is  smoked tabasco hot sauce.
Lunch
The food that I had at Heaven on Seven was called " Southern Fried Chicken". It is fried chicken with mashed potatoes, vegetables, and creamy lemony gravy.
The gravy was the best I've ever tasted! Yuuummmmm!
The gumbo was pretty terrific too……
Dessert
What I had for dessert was a pie, but it was no ordinary pie. It was a peanut butter chocolate pie and that was one of the best desserts I have ever tasted.
The second time we went there we ordered the dessert sampler and that had 9 kinds of desserts on it! I tasted my first pecan pie and loved it, but I still think the peanut butter chocolate pie is the best.
Heaven on Seven is such a good restaurant! It is SO good that I begged to go there again! And we did!
We went there twice during our time in Chicago. I would recommend this restaurant to anyone who visits Chicago, even if you're not living in an RV full time like we are!
That is my review on Heaven on Seven!
Write a comment below and tell me what you think. What was YOUR best meal ever?